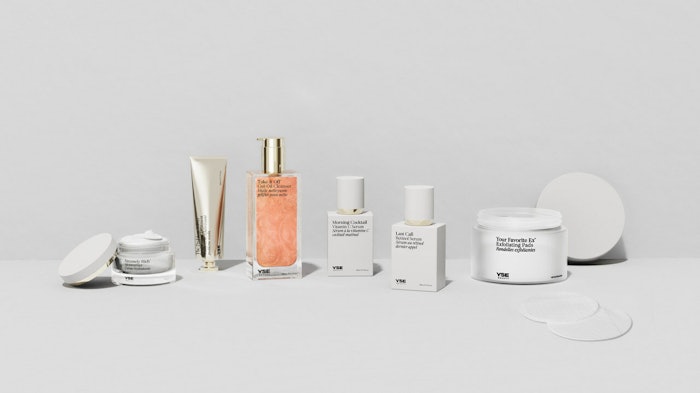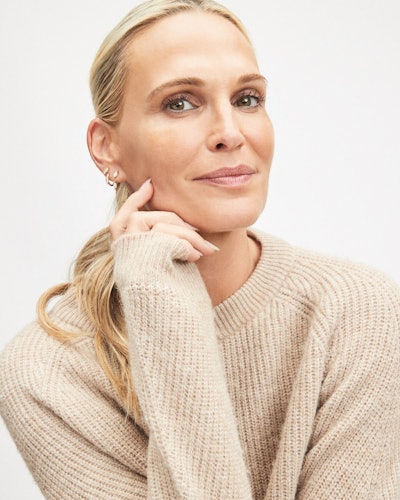 Molly Sims, model, actress and host of the Dear Media podcast, has launched YSE (pronounced "wise") Beauty, featuring six brightening skin care SKUs ($45-88) addressing hyperpigmentation, dark spots, sun damage, photo-aging and acne scars.
The products are designed to address the visible signs of exposure to environmental pollution, chronic stress, hormonal shifts, excessive sun and blue light exposure, per YSE Beauty.
The formulations were developed with LA-based SOS Beauty, a brand incubator behind big names such as Ouai, Patrick Ta Beauty, Shani Darden Skincare, Merit and NatureLab. 
The Problem Solver Brightening Treatment brightens and evens out skin tone and features tranexamic acid, pomegranate seed oil, licorice root extract and niacinamide.
The Morning Cocktail Vitamin C Serum is designed brighten the skin, fade hyperpigmentation and boost collagen to enhance skin firmness. The formulation comprises three forms of stabilized vitamin C, azelaic acid, niacinamide and hyaluronic acid.
Your Favorite Ex Exfoliating Pads are designed to surface smooth, bright skin while moisturizing. Key ingredients include glycolic acid, grape extract, sodium polyglutamate, fluconalactone and ectoin.
The Last Call Retinol Serum, designed to combat dark spots and hyperpigmentation, features retinol, niacinamide, hyaluronic acid and linoleic acid.
The Take It Off Gel-Oil Cleanser features an antioxidant blend, meadowfoam seed oil, cloudberry seed oil, almond seed oil and rice bran extract.
The Xtremely Rich Moisturizer provides hydration with ceramides, squalane, microalgae and hyaluronic acid.
The brand's website features ClearForMe plugins that allow visitors to click on each ingredient for more information.
"Life's too short to not love the skin you're in," said Sims, who serves as founder and chief creative officer of the brand. "After years of struggling with hyperpigmentation, trying every product under the sun, and creating my own cocktail of concoctions. I recognized a hole in the market for a simplistic skin care routine that marries science-backed clinicals with the beauty and ease of luxury. That's why I started YSE Beauty, to create a curated collection of products that work hard for you with no downtime–because I never want to miss my kid's 4th (yes, 4th!) sports game of the weekend or a paloma with a friend. It's time we all get wiser with our skin care, and how we live our lives."
"It has been an honor and a pleasure to work with Molly on the creation of this brand," said Charlene Valledor, SOS Beauty president and co-founder. "Prior to embarking on this venture, she spent nearly a decade sharing her beauty journey online with her audience, so in addition to bringing her unique experience and knowledge to the table, she was also able to bring an intimate understanding of the skin challenges facing so many women today. She knew that she was not alone in her struggles in finding the right products to deal with her hyperpigmentation, acne and more—and that's what drove her to create YSE. Armed with information and access to the top skin care experts and dermatologists in the nation, we set out to develop a unique, thoughtfully curated system to help women reveal their brightest, most radiant skin. Our task was to distill all the information she'd collected, pair it with the latest research, and create a line that is not only unique and efficacious, but also designed to perfectly suit this demographic: real people with busy lives looking for an effective routine that allows them to spend less time worrying about their skin and more time enjoying life."