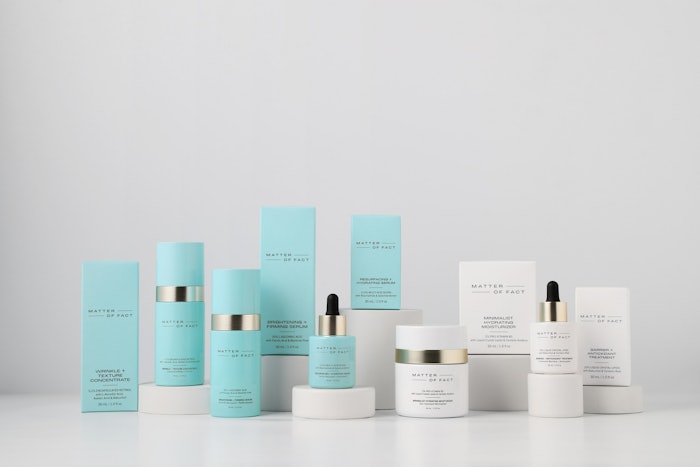 Inclusive and clinical skin care brand Matter of Fact is expanding to Sephora.com now and in 270 brick-and-mortar U.S. Sephora locations beginning August 25, 2023.
As Circana recently noted, clinical brands reportedly brought in the majority of U.S. prestige skin care sales gains in the first half of 2023.
The brand's Sephora debut includes the newly launched Wrinkle + Texture Concentrate ($98), featuring retinol, vitamin C and azelaic acid; the Brightening + Firming Serum ($92), featuring a 20% dose of fully dissolved L-ascorbic acid; the Minimalist Hydrating Moisturizer ($68); the Barrier + Antioxidant Treatment ($68), featuring lipids and antioxidants; and the pore-focused Resurfacing + Hydrating Serum ($88).
"We are so honored to officially be a part of the Sephora family and have the chance to share our work with their wonderful community!" said Paul Baek, formulator and founder of Matter of Fact. "Knowing people will consider using their hard earned money on our products is something I take seriously. Through our straightforward formulations, combined with our rigorous approach to testing, we hope to delight Sephora clients. Sephora has been a force of nature in the world of beauty and self-care products for many years now, and to be among the brands represented in their legendary spaces is a dream come true."