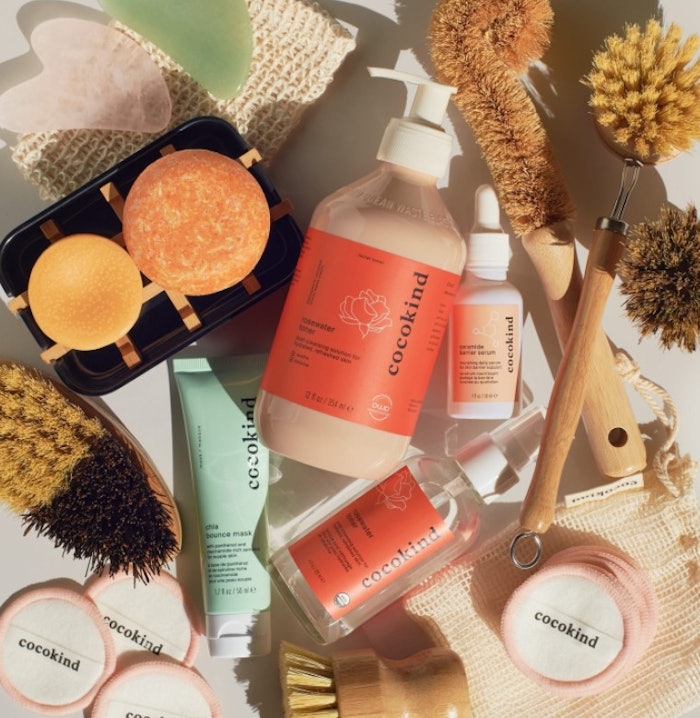 Cocokind Instagram
It was gratifying to see the ever expanding beauty and skin care section at Expo West, a leading tradeshow in the natural, organic and healthy products industry.
After waiting for two years for it to reopen, this tradeshow was back in-person and bigger than ever. The show was full of exciting, better-for-you brands in a wide range of categories including the beauty sector. Many brands incorporated plant-based ingredients and applied sustainable methods to their production and design.  
According to Jessica Rubino, executive director of content at New Hope Network, "The natural products industry is increasingly becoming an industry that supports and elevates diverse, women founders, as well as diverse communities. The beauty industry should lead the way by bringing inclusive, accessible natural products to all people."  
Rubino was also very encouraged by exhibitors' efforts in climate action.  
"Natural products companies are making real, measurable climate commitments in addition to delivering products that are better for their consumers' health," she said.
Everyone was uplifted and motivated and I truly believe that was the prevailing attitude articulated by Rebecca Hamilton, owner and co-CEO at W.S. Badger Co. 
Hamilton said, "We have always been mission driven but having high ideals and doing something good in the world is very different from looking at the data and knowing what you have to do to have an impact." 
The great news is manufacturers are responding to what consumers have been asking for.  
Rubino also observed a trend that I hope we see a lot more of: joy.  
"Companies are embracing a more joyful approach, which makes them more accessible and supports a greater mission around happiness and mental health," she said. 
Here are eight of the trends we spotted that are sure to make an impact.
Waste Reduction For A Better Planet  
Brixy is an eco-conscious brand that wants you to feel good about your impact on the earth and look good from using efficacious shampoo and conditioner bars. Its bars were born from the idea that exceptional personal care doesn't have to come from plastic. One Brixy bar lasts longer than two 8 oz plastic bottles. They are formulated for hydration and balance, made with clean and effective ingredients. The bars don't contain palm oil, sulfates, phthalates, parabens or artificial fragrances.  
Of course, W.S. Badger Co. is also a leader in this area and continues to raise the bar. This company has been family owned and operated since 1995 and they make organic products for body care. They are on a journey to create a healthier world one healing product at a time and they even source their materials through regenerative and sustainable agriculture.   
All-Natural Products That Are Safe For Your Body
Nature By Canus is a multi-generational, family-run business crafting nourishing, hydrating body care solutions, made with fresh Canadian goat's milk, for families everywhere. Nature is one of the brands by Canus and they make vegetable base soaps, foaming milk baths, silky body washes and creamy body lotions. Their ingredients are meticulously sourced from responsible producers. 
Cocokind has long been a favorite expo company and to see how they are measuring their carbon commitments is another reason to love them. They hold themselves accountable by measuring their carbon footprint annually and they improve every year by focusing on reduction. They serve botanical-forward skin care that provides hydration and skin barrier support that changes the status quo of the beauty industry.  
The Natural Group uses high strength and high quality biomagnets for muscle and joint pain reduction and recovery and is safe for all skin types. It's 100% natural and can be used anywhere at any time.   
Sexual Wellness Products Are Mainstream   
Ah! Yes makes intimate lubricants that are body safe, side-effect free and 100% pure and natural, while also being highly effective and pleasurable. These intimacy products, personal lubricants, vaginal moisturizers and intimate washes are sold to more than 93 countries worldwide helping people change their world from the inside.
Empowering Community Through Diversity 
Alaffia makes clean, plant-based skin and hair care products. Its success is measured by empowerment. Empowerment projects are Alaffia's mission in action, funded by the sales of Alaffia products. Alaffia invests in their communities because it is their moral responsibility and to ensure African resources empower African communities. 
The goal is to alleviate poverty and encourage gender equality. The brand's empowerment projects include several education-based projects, maternal health, FGM eradication, eyeglasses and environmental sustainability. 
All of Alaffia's projects empower Togolese communities to provide their skills and knowledge to the rest of the world and rise out of poverty.  
Packaging Using Recycled Materials And Focusing On Plastic-Free
HiBAR is doing a great job and I'm loving their brand overall. Frist, launching with bar-format hair care and now moving into deodorant. The brand is 100% plastic-free and compostable.  
The Humble Company's Recyclable Bamboo Electric Toothbrush also shows we are trying to rid every category of plastic. This team of dentists are leading a small revolution in personal care products from design to manufacture to humbleness. The brand is also helping underprivileged living in communities.  
Beauty From Within  
All you need is inside DIVA'S functional beverages, which offer benefits for skin and other consumer concerns. With a new era of care shots for complex care, healthy aging drinks for beauty and confidence and vitamin water for a health boost. DIVA'S always leaves you one step ahead. Plus, there are no preservatives or artificial sweeteners, only natural ingredients.   
Organifi Glow delivers many collagen benefits in a plant-based blend that stimulates the body's own collagen production, which declines with age. It contains 13 science-backed superfoods, including tremella mushroom, amla, acerola cherry (standardized to a super-potent 30% vitamin C), bamboo silica, aloe and rosehip. 
Plus, Organifi swaps added sweeteners with freeze-dried plant extracts and is certified glyphosate residue free. The result? A pure and potent vegan way to get that collagen glow. 
Winged Women's Wellness Glow Up specializes in supplements to help women with specific needs like sleep, mood, skin, energy and stress. It contains biotin and vitamin C for skin and hair health, plus schisandra and snow mushroom for stress. All ingredients are clean, natural and free of GMOs. 
Life Extension Daily Skin Defense tackles pollution. Particulate matter can penetrate the skin and cause oxidative damage that can lead to wrinkles, fine lines, and mottled pigmentation. Zeropollution from Monteloeder, which is found in the brand's offerings, is a plant extract shown to help prevent and repair air pollution damage from the inside out. The defense formulation also contains ceramide.  
Natural Deodorants 
Humble is based in the highest desert mountains of Taos, New Mexico and they offer cleaner ingredients for a cleaner lifestyle. They also donate a percentage of their profits to organizations doing great work around the world.  
Routine Olfactory is co-founded by two sisters that are revolutionizing our routines, creating beautifully blended products for the body, face, hair and skin. They have only the best quality ingredients.
Schmidt's has been making natural deodorants since 2010. They create the products in ways that are ethical, sustainable and inclusive. They are certified natural, vegan and cruelty-free and disclose their full ingredients because transparency is key.