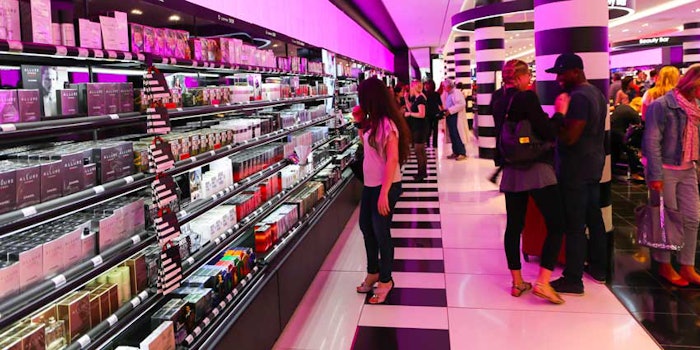 How do you take your carefully crafted product and well-financed brand to market? The goal, after all, is to make sure that your brand gets in the hand of consumers—but how do get there? Which channel do you pursue? Brick and mortar? Professional? Online? Direct or not? What are the keys to success in each channel? Here are some pointers.
Salons and Spas
According to the International Spa Association's latest survey (2016), there are more than 20,000 spas in the United States. A few keys to success for spas and salons:
Backbar products: Professionals like professional-only products—whether color in salons, or peels in spas. Having an offering that combines retail and backbar is key.
Education: While education is important in any channel, it is most important in the professional retail sector. Stylists want to be taught how to do hair color, and aestheticians want to be taught new facial techniques. Having a team of educators is key. Smaller brands will often struggle here, because professionals are often taught in brand-specific schools such as Dermalogica's International Dermal Institute or Aveda's Institutes.
Inspiration: This may be truest in the salon world (versus spa): stylists need and crave inspiration from the world of fashion and beauty. A brand that cannot offer that will be challenged in the professional channel. *FOOTNOTE https://experienceispa.com/
Derms and Plastics
My brand is formulated by Switzerland's best dermatologist (yes, he is also my father). When Alchimie Forever launched, I thought the medical channel would be the most suited to the brand. Not so. This channel is dominated by a few mega-brands—Obagi, Skinceuticals and Skinmedica, as well as the product brands owned by the likes of Allergan. Should you still decide to distribute your product in this channel, make sure you have:
Clinical studies proving the results of your products.
Amazing before and afters.
A budget for in-service trainings and lunches.
Department Stores
This channel has been the Holy Grail for brands for many years. However, recent headlines are less flattering, from challenging holiday season sales to Macy's announcing the closure of 68 stores earlier this year. This channel continues to be hit hard by disruptors and the economy.
Specialty Beauty Chains
There are three key national players in this segment: Sephora, Ulta and Bluemercury. You may also wish to look at some of the regional players, including Planet Beauty, Peninsula Beauty and Beauty Brands. The same success factors apply.
These retailers have largely replaced department stores as the Holy Grail for independent brands. A number of brand owners and a VP of sales (from skin care and hair care brands) interviewed for this article mentioned Ulta as their favorite retail partner. Certainly, Ulta's CEO, Mary Dillon, is a force to be reckoned with in the industry—and my sources say that this retailer will be growing in the double digits this year and adding new doors faster than most competitors.
And Sephora was long ago hailed as an incubator and discoverer of niche brands. With hundreds stores, this channel is extremely scalable. Sephora has 430 standalone doors in the United States and more than 2,300 globally, as well as another 490 in J.C. Penney locations; Ulta has more than 970; and Bluemercury more than 120 (including about 20 inside parent company Macy's locations). Stores in the specialty channel will often want to test new brands on their e-commerce sites prior to a brick and mortar launch. Key success factors in this channel include:
Amazing packaging and merchandising materials.
Brand awareness and great press.
Samples. Lots of them.
Account executives throughout the country that can help support the stores through visits, trainings and, sometimes, in-store support.
Cost of goods that enable you to offer your retail partner more than a 50%/50% split.
Independent Beauty Boutiques
The upside of this channel is that the balance of power between a boutique and a smaller brand is more equally divided, compared to national or regional retailers. The downside is that this channel represents a one-by-one-by-one expansion process. A further downside is that there are not many of these stores left, so the scalability is diminished.
Mass(tige)
Target, CVS and Walgreens—with thousands of stores, these chains make even Ulta look small. But are you ready to supply 8,000 stores? Do you have the inventory? And is your price point adequate for the channel?
Walgreens—and to some extent, CVS—span mass and masstige. While CVS shuttered its Beauty 360 project (though not the brand), Walgreens succeeded with the Look Boutique. Since Walgreens' marriage with Boots and the addition of new management, the directive from the very top is to make beauty (mass and prestige) as important to Walgreens as the pharmacy. This is easier said than done, but if anyone can do it, Walgreens can. Pay attention to the retailer's Beauty Differentiation formats, which will be rolled out into more than 1,000 stores by the end of the year.
Online
Today, online is a must. Your own e-commerce-enabled website will generate your highest margin sales and often fund the rest of your distribution.
Keys to success here are:
A great back-office platform. (We recently switched from Big Commerce to Shopify, and I could not be happier.)
A team dedicated to optimizing this channel. It can be your biggest account, but is often not treated as such since you are not talking to a customer when strategizing about your online sales. This is not a customer that will ever call you and complain that you are not paying enough attention to them, so often they will erroneously fall into the "important but not urgent" category.
A social media strategy that will drive your e-commerce sales.
Third-party online is also an interesting channel. Sampling, training and brand awareness are key in this channel. Notable players include Dermstore (now owned by Target) and The Hut Group, which recently acquired Skinstore.com, SkincareRX.com, Glossybox, the Australian-based online hair care group, Ry, and ESPA, a skin care and spa brand.
Amazon
How can one discuss online without mentioning Amazon, the disruptor of everything? With Alchimie, I resisted Amazon for a long time before realizing that it was a futile effort. If you can't beat them, join them.
My friend, a skin care brand CEO and owner who asked to remain anonymous, said it best: "Amazon is and has always been a category killer. It is having a major impact on beauty distribution. Most of the one-off e-commerce sites we have been working with are gone or struggling. The only survivors are the ones bought by big companies like Target and Walgreens. No one else can compete anymore unless they have a very strong point of difference like a Net-a-Porter."
Amazon is heaven for diverters and discounters, so the key here is policing your brand. If you can work with Amazon Luxury, do it, because then Amazon polices your prices for you. The second best option is to have your own Amazon store and have Amazon fulfill for you. Yes, it is expensive. Yes, you don't get your customer data. But, you can be a part of Amazon Prime—and let's face it, that's the beauty of Amazon.
TV
Once again, there are three: QVC and HSN (now both owned by Liberty Interactive) and Evine Live (formerly ShopNBC). As Nadia Yousif, brand strategist at Cosmetic Projects NYC, puts it, "[T]his is a phenomenal channel for brands—big or small. Here, brands are on a more even playing field. At the end of the day, it is about the numbers and how well a brand can do when provided its 15 minutes of fame—and if the brand can connect on air to the consumer."
She added, "QVC has launched mega brands that were created by entrepreneurs and it has breathed life back into large companies looking to connect to a new consumer."
Bare Minerals was an early TV sales success story. More recently, the success of IT Cosmetics on QVC, which sold to L'Oreal for $1.2 billion in 2016, confirms the continuing power of this channel. Not all brand founders or CEOs are meant for TV, however. In addition, makeup and hair care are more visual than skin care, and thus usually better suited to this channel.
Is Channel Conflict an Issue?
Five years ago, I had to defend our online presence to our brick-and-mortar partners. Today, the marketplace has come to understand that the consumer who will buy shampoo at her hair salon will also run out of conditioner at midnight and want to reorder it online. Spa managers recognize that having a brand that is also carried in broader retail is a benefit as this drives brand awareness—as long as there is no price differentiation between channels.
When I asked industry leaders about this topic, however, opinions varied. Brenda Elliott, CEO of Universal Companies (the leading spa distributor), suggests that "Channel conflict is still of concern but much less than 5 to 10 years ago. Value propositions are shifting. Most important today is not to erode the customer experience."
According to Yousif, "One still has to consider channel conflict. The lines are much more blurred in today's market, however if you are an emerging brand and want to be perceived as prestige, we like to take a cautious approach when expanding distribution channels."
My same anonymous friend the skin care brand CEO and owner suggests otherwise: "I really don't think anyone is talking about this anymore. At least not that I am aware of. Every retailer knows a brand is going to drive business to its own site."
Direct Vs. Distributor
A fundamental question will be whether or not you wish to work with a distributor. Pros include their existing relationships with boutiques and spas, their existing sales team and infrastructure, and their expertise in the distribution business. Cons include a loss of control, and the fact that larger retailers or spas often prefer to work directly with the brand.
In my experience, a blend is the best of both worlds. We use a distributor for the spa channel, keep our key accounts direct and handle all retail direct in-house. A friend who is VP of sales for a large retail-based hair care brand, who asked to speak on condition of anonymity, also prefers this blended approach: "[F]or larger prestige retailers we work direct, and in smaller or regional chains/independents we use a distributor. For larger retailers with whom a long-term strategic partnership is crucial, having complete control over the brand allows for alignment with buyers and cross-functional teams within their organization."
My friend added, "Partnering on strategies further out, with confidential collaboration on topics such as marketing and product development, enables both brands and retailers to build trends, categories, and broaden market share in the long term. Partnering with regional or specialty distributors allows smaller chains and independent retailers to have the benefit of focus and high touch from local representatives, yet still capitalize on the larger brand strategy and awareness."
A few distributors that should be on your radar should you choose to go that route: Universal Companies (for spa), C.O. Bigelow (for retail) and E.C. Scott (for retail and spa).
Retail's Constant Evolution
Beyond brick-and-mortar and online distribution, the trends in our industry make it such that the moment an article about distribution channels gets published, it is already obsolete. Perhaps by the time this is printed, we will be discussing apps that let customers order online and pick-up in-store or in-spa, Amazon drone delivery, and who knows what else. As Sun Tzu says in "The Art of War," "In the midst of chaos, there is also opportunity."
Ada Polla (ada@ alchimie-forever. com) is the co-creator of the Swiss antioxidant skin care line, Alchimie Forever, which launched in the U. S. in 2004. Her strategic focus and implemen­tation have yielded double-digit annual revenue growth for the company. Polla holds an MBA from Georgetown University, majored in art history and political science at Harvard University, and graduated magna cum laude with a Bachelor of Arts degree in 1999. She is also a Global Cosmetic Industry editorial advisor.