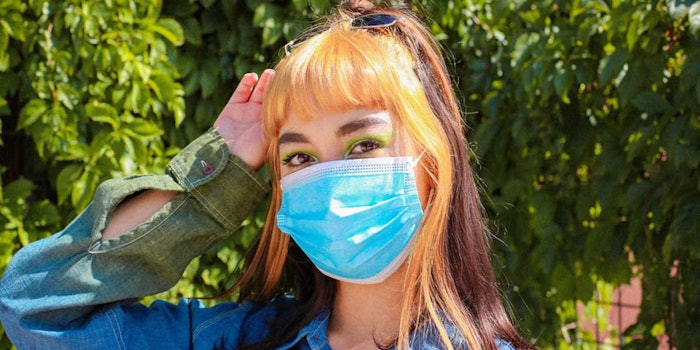 Excepting makeup, all U.S. prestige beauty categories experienced double-digit year-over-year gains in Q1 2021, per new NPD data. And even makeup is showing signs of resurgence as vaccines and lockdown cancellations draw more consumers out of their homes.
What's Happening at Retail?
Online prestige beauty sales were up 33% in Q1 2021 compared to the same period of 2020, which marked the initial wave of the pandemic. Brick-and-mortar sales, so critical to beauty's performance, are up 3%, led by double-digit jumps in fragrance and hair care.
Four out of 13 weeks that comprised Q1 2021 were free of U.S. prestige beauty retailer promotions, according to a new report from Larissa Jensen, The NPD Group's vice president, industry adviser, beauty. (Read more about Jensen's February 2021 update here.)
This stands in stark contrast to 2020's one promotion-free week. In fact, this year the percent of skin care, facial makeup and fragrance units "sold on promotion" dropped.
Hair Care
Prestige hair care sales totaled $300 million in Q1 2021, a 48% year-over-year gain. Top performers included hair masks and a rise in hair styling sales.
Skin Care
Prestige U.S. skin care sales totaled $1.4 billion in Q1 2021, a 12% year-over-year increase, per NPD. Self-care continued to dominate with positive results for facial and body serums, as well as more "public-facing" products like facial and body exfoliators and sun care, the latter of which represents the second fastest growing skin care category.

Hygiene demands continue to boost the popularity of hand soaps, "with sales more than doubling" since the same period of 2020, according to NPD.
Fragrance
Prestige U.S. fragrance sales totaled $953 million in Q1 2021, a gain of 45% year-over-year, driven by candles and Valentines Day, which witnessed triple-digit year-over-year gains for fragrance sets with a free gift, as well as perfumes.

These gains also perhaps signal the waning dominance of home fragrances as consumers shift their focus outward.
Makeup
 U.S. prestige makeup sales totaled $1.5 billion in Q1 2021, a 9% drop year-over-year. That said, in the last few weeks of the quarter, makeup declines decreased from -30% compared to Q1 2019 to -20%, highlighting recovery for the segment.

Makeup's top performers included, of course, nail care, highlighters, which were up 12% year-over-year, and bronzers, which were up 2% year-over-year.
Eye products also continued to outperform the category, per NPD, led by mascara, eyebrow makeup, false eyelashes and eye applicators. 
"Strong growth across most categories is being fueled by the anniversary of sales during a period of lockdown in March," said Larissa Jensen, beauty industry adviser, The NPD Group. "This will accelerate over the next quarter before somewhat stabilizing over the latter half of the year. The positive news is that fragrance, skin care, and hair posted growth against 2019, a more accurate representation of industry sales. A re-energized consumer has emerged, fueled by the optimism of warming temperatures, lower case counts and widespread vaccinations providing the promise of a return to normalcy."