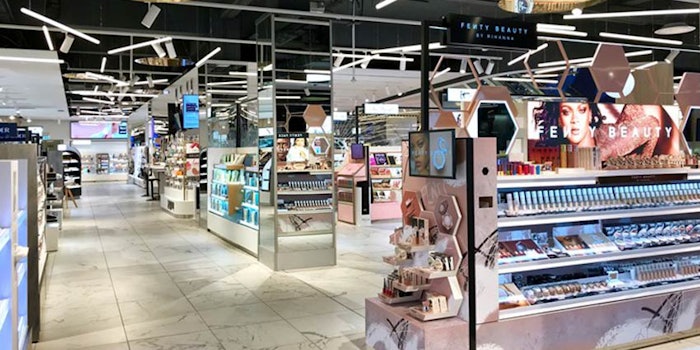 In April 2019, they promised, and in June 2019, they delivered—Boots has debuted its new store concept with its London flagship.
Located in Covent Garden, the 28,524-square-foot space welcomed its first customers on Thursday, June 27, 2019 reports the Evening Standard. Here's what you need to know:
36 new brands and more than 300 new lines are offered within the retailer's wellness range, including sustainable toiletries, eco-friendly sanitary products and CBD items. Other wellness features: an Innovation Studio housing health and fitness technology like FitBit, a Beauty Kitchen which allows customers to refill empties with natural skin care products, and a Rehydration Station where they can refill water bottles.
Related: Walgreens Boots Alliance Teams Up with Alibaba for Tmall Flagship
The outpost will be one of the 1st to offer Josh Wood Colour Consultations and a La Roche-Posay Skin Care tool; other skin care offerings include brands such as BYBI and Skyn Iceland and a Mask Bar. Alongside brands including Fenty Beauty and Urban Decay, customers will be able to check out trend zones, live demonstrations, learn about product from brand-agnostic beauty specialists and show off their goods in a dedicated Instagram zone.
900 tonnes of plastic are expected to be taken out of the environment each year when Covent Garden and 52 other Boots outposts have completely phased out plastic bags, a goal the company aims to reach by 2020. Covent Garden will be the first store without any single use plastic bags whatsoever (offering more environmentally-friendly unbleached paper bags instead).
"Our new Covent Garden store starts a journey of reinventing Boots for the future," said Sebastian James, managing director, Boots UK and ROI. "The store is full of exciting beauty brands, ideas for living well and services to help you get better, all with the great care that Boots colleagues give. We will learn what people love and want from this shop and this will help us shape a blueprint for our whole 2,500 store estate."