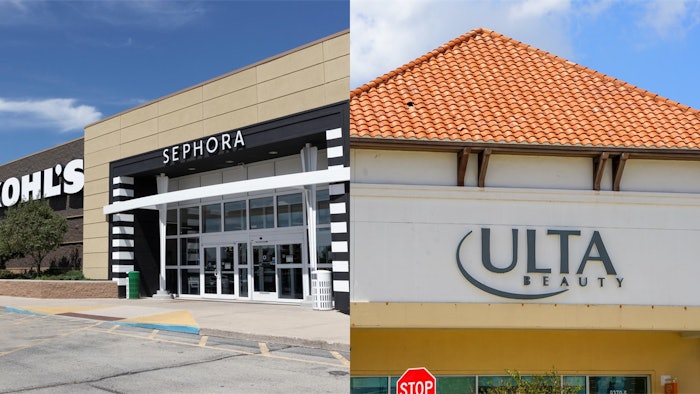 While Ulta Beauty and Kohl's overall results in Q2 2023 couldn't be more different, both retailers' latest investor calls reveal the universal strength of beauty.
Ulta Beauty reported Q2 2023 net sales of $2,529.8 million, compared to $2,297.1 million in the same period of 2022. For the first half of fiscal 2023, Ulta Beauty has generated net sales of $5,164.1 million, compared to $4,643.0 million in 2022.
Conversely, Kohl's reported that Q2 2023 net sales decreased 4.8%, while comparable sales decreased 5.0%. Yet its Sephora store-in-store business continued to boom.
What's driving growth? New and unique brands, fragrance, clinical brands, shopper behaviors that span mass and prestige simultaneously, men's care, and much more. Let's look at what the execs had to say.
"Our proprietary insights suggest consumers are becoming less focused on product pricing tiers and are trading around, choosing to engage with brands that offer on-trend newness and compelling social media content," said Ulta Beauty CEO Dave Kimbell in the latest analyst call. "As the only beauty retailer to offer a curated assortment of products from entry-level mass to luxury and everything in between, we are uniquely positioned to capture share of the total beauty market as consumers shift."
The brands driving growth included Bubble, Byoma, Beautycounter, The Ordinary, Drunk Elephant and Supergoop!.
Reflecting Circana's data showing consumer engagement with clinical, expert-backed brands, Kimbell noted that dermatologist-recommended brands like La Roche-Posay and CeraVe did well, as did socially viral brands like Good Molecules, Hero Cosmetics and Peach Slices.
Kimbell added, "The fragrance and bath category delivered double-digit comp growth again this quarter. Layering and wardrobing scents is a form of self-expression, especially among Gen Z consumers, continued to drive category engagement."
Top-performing fragrance brands included Ariana Grande, Valentino, Burberry, Carolina Herrera, Chanel and YSL.
Kimbell continued, "The hair care category delivered mid-single-digit comp growth, driven by newness and guest engagement with our strategic events. Hair care focused on bonding, scalp treatments, and other repair solutions, as well as products that offer healthy heat styling options, continued to drive consumer engagement."
This is in line with the hair health revolution taking place in the sector. 
Top-performing brands included Redken, Biolage, Matrix, Ouai, IGK, LolaVie and Donna's Recipe.
Kimbell noted, "[S]ales trends in hair tools improved from the first quarter, driven by compelling newness from Dyson and innovation from Bio Ionic."
In makeup, growth drivers included Dior, Natasha Denona, Beautycounter, e.l.f, NYX and OPI.
The results for the Sephora at Kohl's partnership were equally positive.
During the retailer's latest analyst call, CEO Tom Kingsbury said, "Sephora at Kohl's continues to exceed our expectations, driving a total beauty sales increase of nearly 90% year over year. We opened nearly 200 Sephora shops in the quarter and momentum in our existing Sephora shops continues to accelerate with greater than 20% comparable beauty sales growth in the Sephora shops opened in 2021 and 2022."
The partnership is a hit with existing Kohl's customers, while also boosting engagement with consumers who shop more frequently.
The executive added, "The performance is exceeding our expectations, and we are driving considerable beauty share gains."
Growth drivers included Sephora Collection, Sol de Janeiro, Rare Beauty, Fenty and Charlotte Tilbury. CFO Jill Timm pointed out, "Accessories was our best performing category, up 25% to last year, driven by Sephora Kohl's."
In addition, said Timm, "I'd be remiss to talk, not talk about, we have men's brands, which is something you don't see in a Sephora store and we're seeing Clinique for men. Jack Black performing incredibly well there as well."
Kingsbury noted, "During the second quarter, we opened nearly 200 Sephora shops, and this month, we are opening approximately 50 shops. These openings will complete the rollout of our 850 2,500-square foot shops. We are also opening a smaller format, 750-square foot Sephora shop in the remainder of the chain. We opened five of these smaller shops earlier in the year, and they continue to drive solid beauty sales exceeding our expectations. We will open an additional 45 in the third quarter, bringing us to 50 by year-end. In total, Sephora will be featured in more than 900 of our stores by the end of 2023."