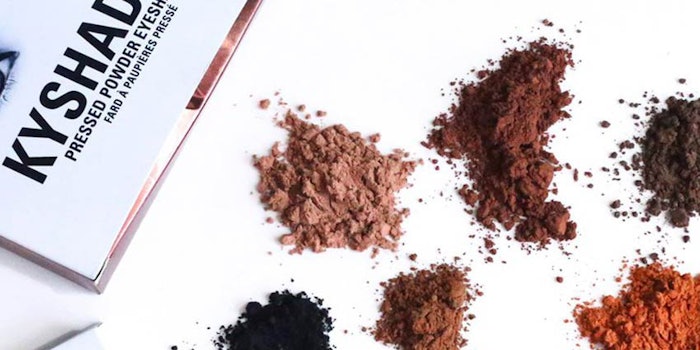 Kendall Jenner isn't the only Kardashian affiliate boosting the beauty industry. Yesterday, visitors to Kylie Jenner's Kylie Cosmetics website were likely confronted with a SOLD OUT message when they tried to pick up the celebrity's latest launch: Kyshadows. This was by design.
In a recent analysis of the engineered scarcity of Jenner's products, Forbes quoted Columbia Business School professor, Robert Phillips, who noted, "It's this rare situation where you get a combination of scarcity and a status item ... This is a different phenomenon where there are close substitutes like with Beanie Babies. But where the brand becomes more valuable with scarcity, which may be artificial, to create this kind of mania."
Yesterday, Jenner tweeted: "I sold them ALL out in under a minute. Thank you & we will be back this Friday w more Kyshadows."
The Kyshadow Bronze Palette kit comprised nine pressed powder eye shadows in:
Jasper (matte finish creamy beige)
Quartz (satin finish champagne gold)
Topaz (matte finish true taupe)
Goldstone (satin finish bronze)
Citrine (matte finish bright orange)
Tiger Eye (matte finish light golden brown)
Hematite (matte finish chestnut brown)
Bronze (matte finish chocolate brown)
Onyx (matte finish black)
Fortunately for Jenner's fan, the restock on Friday will give them another chance to participate in this beautiful economics experiment.
Until then, pity poor @J_cartwright9, who tweeted: "yeah I had one in my checkout and it was sold out before I put my credit card information in"
:(