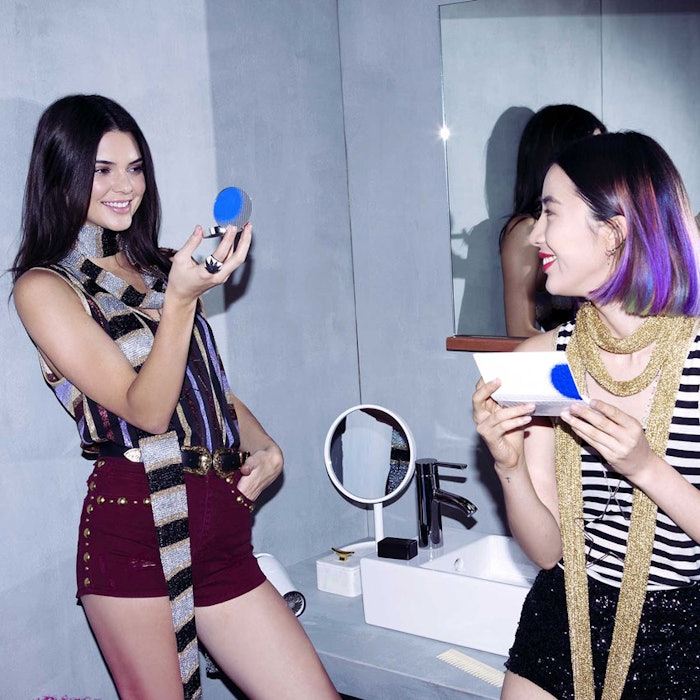 What do 82 skin care and makeup products from a global brand, and two "it" millennials have in common? A new beauty line specifically created for social media-obsessed consumers.
Estée Lauder's launch of The Estée Edit delivers a collection "created for the beauty-obsessed, social media generation" curated by "guest editors" Kendall Jenner and Irene Kim.
The collection, comprising 72 makeup and 10 skin care (pricing: $15-50), has launched in 320 Sephora U.S. and Canada stores as well as at Sephora.com and Sephora.ca. The products are broken out into three sections: The Edgiest (high-pigment, high-impact color), The Barest (feel good formulas in sheer washes of color) and Guest Editor Glow (makeup and skincare for glowing gorgeous skin).
The line includes products specifically for camera-ready, social-media-friendly looks:
Flash Photo Gloss
Pore Vanishing Stick
Lip Flip Shade Transformers
The Edit Eyeshadow Palette
Complexion Hybrids
The packaging features elements originally created by Estée Lauder herself, but with a twist, resulting in silver and white fluted packaging with cobalt blue paint splatter graphics.
The line has a dedicated Instagram account, @theesteeedit, which will feature exclusive content from Kim and Jenner, as well as user-generated content using the tag #beautyattitudes.
"Our founder, Estée Lauder, invented the beauty business as we know it," said Jane Hertzmark Hudis, group president, The Estée Lauder Companies. "So we asked ourselves, 'If Estée was re-inventing the beauty business for Sephora today, what would she do?' The answer is The Estée Edit."
Artemis Patrick, senior vice president of merchandising, Sephora, added, "The Estée Edit is a win for both Estée Lauder and the Sephora client. We anticipate that The Estée Edit's mix of covetable trend-based makeup, instant-gratification skin care products, approachable price point and millennial muses will receive a very positive reaction from our young and socially-engaged consumers."