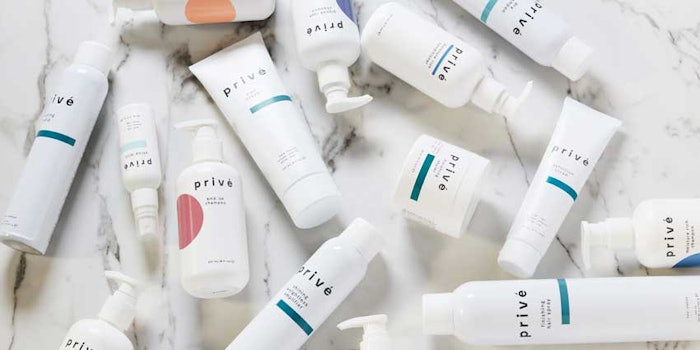 Founded by Laurent Dufourg, hairdresser, Privé is now owned by Digital Hair Partners LLC and is rebranding its line with new packaging, new formulas and a new philanthropy mission called #careforall.
Digital Hair Partners is a group of industry veterans who bring in the most modern digital support to the salon, while also reaching out into the digital stream of every consumer. The team's goal is to inform consumers when trends begin, not when they are already marketable.
"I am thrilled with the direction the new ownership team is taking," said Dufourg. "I will continue to be involved with unique educational collaborations and with our fashion week initiative. With the incredible digital education that creative director Aaron Johnson is heading up, the salon loyalty program, the brand crush initiative and the new look and feel, this is a brand that I know salons, stylists and consumers will be very excited about."
Philanthropy
With its efforts in #careforall, Privé is giving 1% of sales to charities helping women in need. The charity of choice is Project Beauty Share, which is an organization providing hygiene, cosmetics and beauty products to women who may not be able to afford them.
"Giving back is important to all of us working on Privé and we knew it would be important for our following as well," said Kacy Rindal, social content director, Privé. "We found the perfect partner with Project Beauty Share.
An Authentic Brand
The company has a new mantra, which is "inspired by real life."
"Although we will be distributed through professional salons and have professional caliber formulas, we wanted to create a brand that speaks directly to the consumer," said Jori Zeman, brand manager, Privé. "All of our model shots for products and social are of real, young women and are taken in places we all frequent like art fairs and coffee shops instead of in a photo studio. That is very intentional. We want this brand to be authentic and approachable and to appeal to people like our girlfriends and coworkers. We think hair care should be fun in addition to functional and pretty."
The formulations are focused on providing protection and do so with antioxidants such as goji berry, açaí, bamboo and pomegranate, while building strength from within, using proteins such as quinoa, jojoba and baobab.