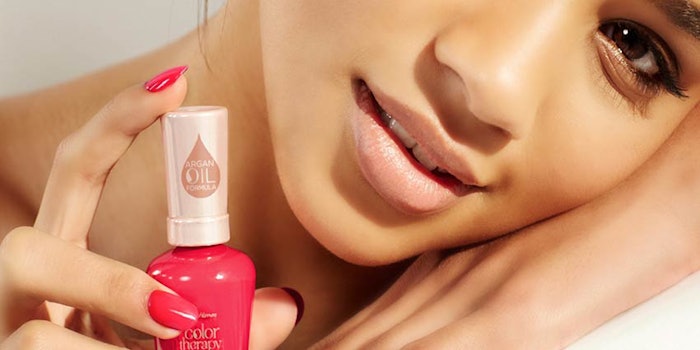 Consumers are increasingly seeking out personal care and beauty brands that offer multifunctional benefits. Now, Sally Hansen, which had a breakthrough with its Miracle Gel innovation, has introduced Color Therapy, a top coat and nail and cuticle oil combo that offers consumers beautiful and healthy nails. No base coat required.
According to the brand, "nine  out of 10 women experienced a noticeable improvement in their natural nails after wearing the Color Therapy nail polish."
The top coats are available in 38 shades created in partnership with global color ambassador, Madeline Poole, offering 10 days of "fade-proof, chip-resistant wear."
Ohm My Magenta
Unwine'd
Slicks And Stones
Shea Dream
Red-

iance

Haute

Springs
Red-y To Glow
Exotic

Acai

Indiglow

Good As Blue
Soothing Sapphire

Ja

-Cozy
Reflection Pool
Teal Good
Cool Cucumber

Bamboost

Pampered in Pink
Aura'nt You Relaxed?
Soak At Sunset
Rosy Quartz
Sheer Nirvana
Primrose And Proper
Rosy Glow
Berry Smooth 
Mauve Mantra
Robes and Rosé
Couple's Massage U
Steely Serene
Powder Room

Chai

On Life
Well, Well, Well
Make My Clay

Therapewter

Haute

Stone
Mud Mask
Glow With The Flow
Blushed Petal
Re-Nude