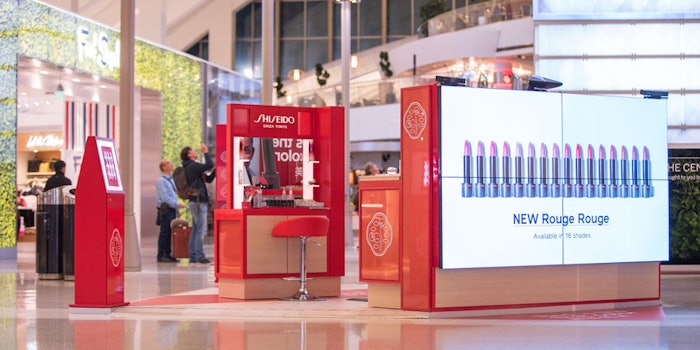 The Los Angeles International Airport's Tom Bradley International Terminal is playing host to Shiseido's first U.S. activation.
This specific terminal is the airport's largest and busiest and saw 52.3 million travelers pass through last year, making it an ideal location for the new activation which will display the company's newest lipstick formula, Rouge Rouge. The collection is comprised of 16 shades all focusing on the color red.
Shiseido, with the help from retail focused design and production agency, Bloommiami, designed the activation to be both interactive and helpful to travelers who stop to shop. 55-inch LED screens were incorporated into the design to display products as animated patterns that change with the movements of those standing in front of it.
Shiseido uses what is called Vibrant Red Color Technology to combine pigments and light technologies to create an ideal red lip for every skin tone. This technology is used to help the shopping process and give recommendations to shoppers. The activation also includes an iPad application "Find Your Rouge Rouge" that allows them to create a digital portrait that they could then download and share on social media using #rougerouge2016 and #shiseidored.
Bloommiami partner, Darin Held was quoted saying, "Disruption has become the new buzzword in Travel Retail marketing and what better way to disrupt and engage than to activate at the bottleneck of main entrance leading to the TBIT international gates. Also, the brands can now sell from the activation platform in addition to sampling – this is a new and exciting proposition for our clients. Not only are they getting incredible brand exposure, but also a direct and measurable return on investment. Airport retail is becoming more premium and experiential over the past few years. Our clients are not only looking for innovative ways to attract customers but to also cultivate brand loyalists."