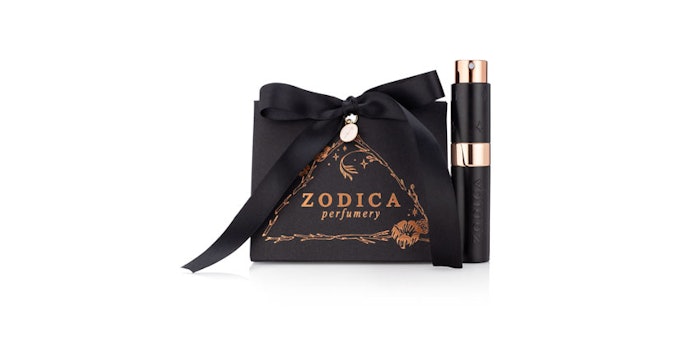 As the zodiac trend continues to sweep the color cosmetics market, Zodica Perfumery is bringing the astrological vibes to the fragrance world. 
Zodica Perfumery specializes in fine fragrances that "evoke a vibe reflecting the sign's personality, energy, and season." The company reportedly uses organic and sustainable ingredients and packaging. All eau de parfums are 100% vegan and cruelty-free and do not contain parabens, phthalates, gluten, soy or formaldehyde.

Founder, Kristi Moe, said, "The unseen has power. Aromatherapy has been proven to instantly change your brain chemistry and make you feel happy, relaxed, energized, and more. Infusing metaphysical properties takes the perfume to a whole other level of mindful intention. It's all about making you feel connected to something bigger."
According to Zodica Perfumery, on average, 80% of people prefer their zodiac sign's perfume over the other 11.
The 12 fragrances include:
Aquarius (moxie): Verbena, cardamon and white fir;
Pisces (dream): Neroli, cyclamen and light musk;
Aries (energy): Cinnamon, amber and cedarwood;
Taurus (beauty): Leafy green, iris and sandalwood;
Gemini (harmony): Orange, mimosa flower and teak wood;
Cancer (love): Plum, iris and rose;
Leo ( happiness): Mandarin, jasmine and patchouli;
Virgo (grace): Apple, magnolia and sandalwood;
Libra (charm): Brazilian mango, white peach and freesia;
Scorpio (passion): Ylang-ylang, patchouli and oakmoss;
Sagittarius (adventure): Sweet berries, vanilla spice and dark musk; and
Capricorn (hustle): Japanese yuzu, green sage and lavender.
Perfumes are available at its new flagship boutique located in Monroe, Wisconsin, as well as in select boutiques across the United States, on QVC, and online at www.zodicaperfumery.com. Zodica Perfumery also plans to launch at Macy's in August 2018.