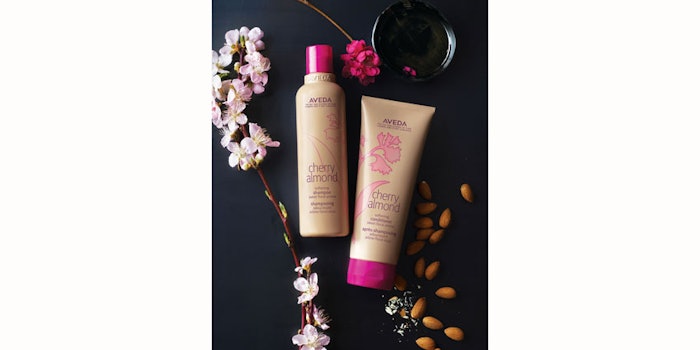 There's no denying it, consumers love a reboot. Whether it's a beloved sitcom, a pop group's reunion tour or the resurgence of a beloved fashion trend, nostalgia has a mysterious and powerful effect. Aveda is the latest to jump on the throwback train with the relaunch one of its very first products, the Cherry Almond Collection. 
Originally discontinued in the mid-2000s, fans were reportedly always asking for the products to be brought back. According to the company, the Cherry Almond Softening Shampoo and Conditioner "has deep roots in Aveda's history but has been updated for 2018." 
The Collection 
Cherry Almond Softening Shampoo is meant to gently cleanse hair and help restore softness and shine. The shampoo retails for $17 (250 ml).
Cherry Almond Softening Conditioner aims to detangle hair while simultaneously restoring softness and shine. The conditioner retails for $17 (200 ml). 
Key ingredients include sweet almond oil, cherry blossom extract, babassu, coconut oil and shea butter. The collection is scented with Aveda Pure-Fume Aroma, including 38 plant and flower essences such as tonka bean, orange and benzoin resin. 
"With a mixture of fruitiness and a floral sweetness, the playfulness of this aroma makes it very
different from other Aveda aromas. This bright, joyful, pretty aroma embodies a carefree but close to nature aura," said Guy Vincent, Aveda Head of Aveda Pure-Fume Aroma.