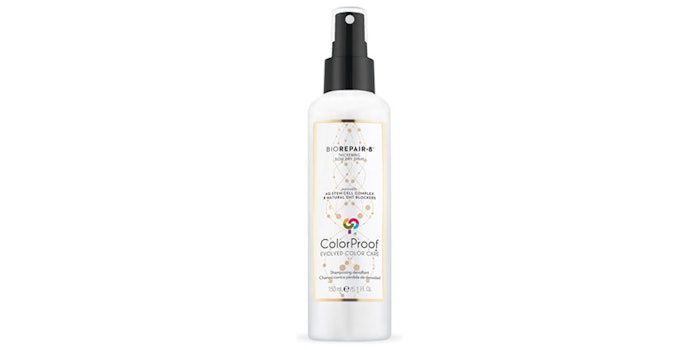 Forty percent of all American women are affected by thinning hair, according to hair care brand ColorProof. In response, the brand has launched the BioRepair-8 Anti-Aging Scalp & Hair System and Thickening Blow Dry Spray for women with aging, thinning and color-treated hair. 
The system includes:
The BioRepair-8 Anti-Thinning Shampoo ($44) is meant to increase microcirculation and exfoliates the scalp;
The BioRepair-8 Anti-Thinning Conditioner ($44) was created to strengthen and repair weak hair from the inside out; 
The BioRepair-8 Stem Cell Scalp Serum ($38) aims to repair the tissue responsible for new hair growth while also fighting the aging of hair follicles; and
 BioRepair-8 Thickening Blow Dry Spray ($32) combines ColorProof's anti-hair loss ingredient technology with volumizing ingredients to deliver fuller hair while creating a healthy scalp environment for hair to thrive. 
Key ingredients include Alpha Hydroxy Acids (up to 4%), eight natural DHT blockers, biotin, copper peptides, lime, eucalyptus, mint leaf, rosemary, tea tree, juniper berry, mint leaf and spice.