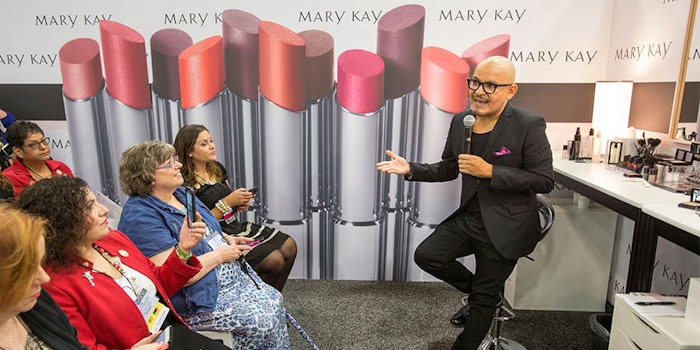 Mary Kay Inc., which has selected Lewisville in Denton County, Texas, for its forthcoming $100-million global manufacturing and R&D operations, and secured more than 130 patents in 2015, has appointed "Project Runway" alum and makeup artist Luis Casco as a Mary Kay Global Beauty Ambassador.
Casco has been the Project Runway lead makeup artist and boasts 42,500 Instagram followers. Celebrities he has worked with include Cameron Diaz, Charlize Theron, Miranda Kerr, Heidi Klum, Blanca Soto, Garcelle Beauvais and Tina Fey. 
He will advise Mary Kay and its independent sales force on topics including product development, color education, sales education and social influencer events.
"Whether I've been in Hong Kong or Argentina, beauty is one language we all speak — makeup and feeling good and being positive."
"While we work with amazing celebrity makeup artists around the world, we're thrilled to expand our relationship with Luis Casco as he becomes the Mary Kay Global Beauty Ambassador," said Sheryl Adkins-Green, chief marketing officer for Mary Kay Inc. "Like Mary Kay, Luis is incredibly relatable, knowledgeable about global beauty and knows it's all about letting women's true beauty shine. We are dramatically expanding our beauty education and the customized content our 3.5 million Independent Beauty Consultants share with their customers around the world. In his new role, Luis will impact our color product development, contribute to trend forecasts and of course, orchestrate beauty looks and tips that help women feel confidently beautiful."
"Whether I've been in Hong Kong or Argentina, beauty is one language we all speak — makeup and feeling good and being positive," Casco said. "In my travels around the world, I've seen how Mary Kay gives women an opportunity to better themselves on their own terms and I love how Mary Kay helps women's dreams come true. I believe my experience and tips will resonate with women because my philosophy is makeup is a creative way to show your personality."