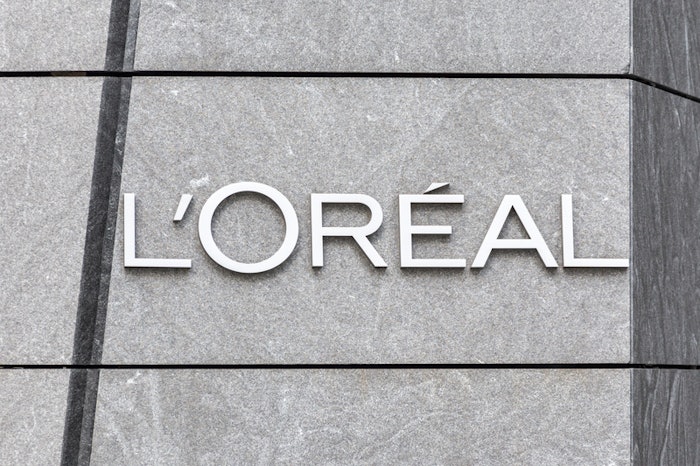 L'Oréal delivered double-digit sales growth and profitability in the first half of 2022, crediting strong performance across all of its divisions and regions.
The French beauty company posted €18.36 billion in sales in the first half of the year, which is an increase of 20.9% based on reported figures and 13.5% on a like-for-like basis.
With operating margins at 20.4%—a gain of 70 basis points—L'Oréal reported that 2022 first-half net profits excluding nonrecurring items came in at €3.25 billion, up from €2.6 billion in the same period last year.
Earnings per share rose to €6.05, a 30.8% jump compared to the first half of 2021.
The L'Oréal Luxe and active cosmetics divisions were the best performers for the company, achieving like-for-like sales growth of 16.4% and 20.9%, respectively, from a year ago.
L'Oréal Luxe
L'Oréal Luxe, which includes premium brands like Yves Saint Laurent and Shu Uemura, posted a 25.6% increase in sales on a reported basis by outperforming in all three of its categories: skin care, fragrance and makeup.
The company reported that the Lancôme Absôlue and Helena Rubinstein brands drove growth in skin care for L'Oréal Luxe, along with the newly acquired brands Takami and Youth to the People.
L'Oréal also credited the division's 35% growth in fragrance to its global mainstays, including Libre by Yves Saint Laurent and Armani Prive.
In the division's makeup category, L'Oréal said global brands Lancôme and Yves Saint Laurent and category specialists Shu Uemura and Urban Decay grew significantly faster than the market.
Active Cosmetics
The active cosmetics division, which includes CeraVe and La Roche-Posay, recorded a 28% jump in sales on reported terms in the first half of the year. The company attributes the strong growth to the division strengthening its partnerships with healthcare professionals, helping it to grow faster than the dermocosmetics market. In addition, by balancing e-commerce and brick-and-mortar sales, the division maintained good momentum over the first half of 2022 with strong contributions from the drugstore and pharmacy channels
Solid performance from specific brands also contributed to the growth of the active cosmetics division. La Roche-Posay accelerated strongly, driven by the Cicaplast and Effaclar product lines as well as the success of UVMune 400, a patented sun-protection product that took 10 years to develop.
CeraVe remained the division's fastest growing brand, performing well in North America and expanding into international markets.
Vichy posted double-digit growth, thanks to the relaunch of the Neovadiol anti-aging line, the success of the UV AGE sunscreen and the popularity of the Dercos franchise in hair care.
Skinceuticals' A.G.E. Interrupter anti-wrinkle cream helped the brand's sales go up in the second quarter.
Professional Products
The professional products division, which includes Kérastase and Redken, achieved sales increases of 14.3% on a like-for-like basis and 21.7% on reported figures.
This division continued to grow in all regions, with outstanding performance in India, mainland China, North America and Germany.
In addition, the division's omnichannel strategy drove significant increases in sales in e-commerce, salons and the SalonCentric distribution network in the United States, which is L'Oréal's marketplace for beauty professionals.
Consumer Products
The consumer products division, which includes Maybelline and Garnier, posted solid growth in the first half of the year with an 8% increase in like-for-like sales and a 13.9% sales gain on reported terms. The company said all of the brands in this division thrived.
Specifically, the performance of NYX Professional Makeup and the launches of the True Match serum by L'Oréal Paris and the Vinyl Ink lipstick by Maybelline helped the division outpace the dynamic global makeup market, according to the company.
The division also recorded double-digit growth in hair care with the global rollout of Elvive Hyaluron Plump and its focus on premium ranges.
And Garnier helped the skin care category grow with the success of its Vitamin C Brightening Serum and micellar waters.
Geographic Zones
L'Oréal also achieved double-digit sales growth in all of its geographic zones. That includes strong performance in its emerging markets: South Asia, Middle East, North Africa, Sub-Saharan Africa and Latin America. Despite store closures and restrictions due to the COVID-19 pandemic, China also performed well with a lift in sales from e-commerce.
Overall Business Strategy
The company attributed its performance in the first half of 2022 to its emphasis on balance in its business model: balance between volume and value growth as well as balance between growth in brick-and-mortar stores and e-commerce, which continues to grow at a double-digit pace.
In addition, L'Oréal said it valorizes its portfolio through innovation and cost controls to absorb the impact of higher raw material prices, mitigate supply chain pressures and continue to invest efficiently in its brands, while improving profitability and creating sustainable value.
"Mindful of the current uncertainties and instability, we are convinced that our unique balanced model, our incredible innovation capacity, our strong brand portfolio, the passion and agility of our teams, and our financial strength are the assets that will enable us to pursue our profitable and sustainable growth strategy," said CEO Nicolas Hieronimus.