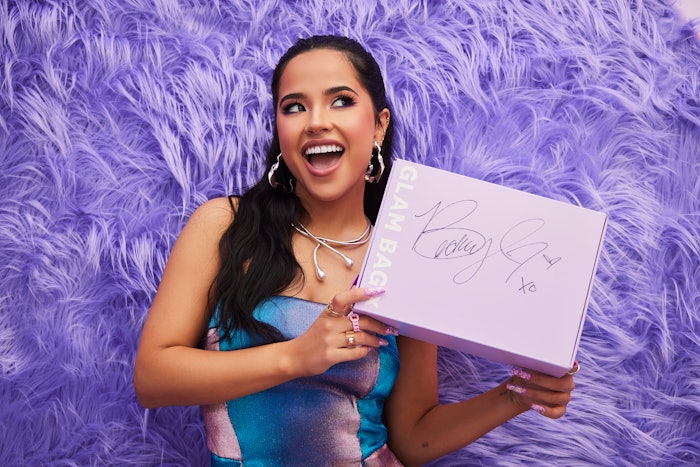 On Nov. 1, 2022, Ipsy will launch Glam Bag x Becky G, featuring a curated selection of beauty products from Latinx- and women-founded brands chosen by the singer, actress and founder of Treslúce Beauty.
The limited-edition collaboration will consist of eight full-size products from brands that Becky G uses, including Artist Couture, Herbivore Botanicals, Tarte Cosmetics and the star's own Treslúce Beauty.  
Ipsy members will receive five products selected for them via Ipsy's proprietary machine learning technology, Ipsy Match. Members will choose the remaining three products from a personalized assortment.
According to Ipsy, this process gives Ipsy members and Becky G fans choice and control in their selections.
Becky G said she curated the collection to celebrate self-expression and her Chicana heritage: "The best advice [my mom, tias and abuelitas] have ever given me is to always express myself and be proud of our Latinx heritage and culture. The idea of self-expression is ageless and something that I keep in mind when writing new music and when I was creating Treslúce Beauty. I am so excited to continue encouraging others to express themselves and introduce some game-changing Latinx and women-founded brands through my Glam Bag X."
Emine ErSelcuk, senior vice president of merchandising at IPSY, said, "Becky G is already a part of the BFA family (Ipsy's parent company) with Treslúce Beauty so asking her to curate the November Glam Bag X was an easy choice. As a proud Mexican-American woman, it was important to Becky G that the bag focused on women and Latinx founders. Becky G's offerings empower IPSY members to live brighty, boldly and unapologetically."