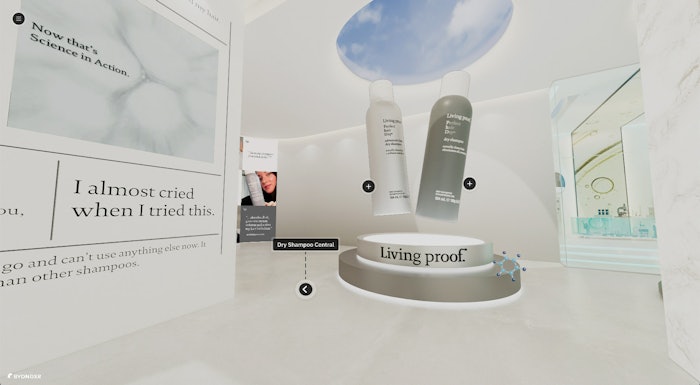 Living Proof, in partnership with e-commerce platform ByondXR, has debuted its virtual store featuring four interactive virtual rooms and an AI quiz.
Shoppers are welcomed with the Dry Shampoo Center, showcasing the Perfect Hair Day Dry Shampoo and Advanced Clean Dry Shampoo.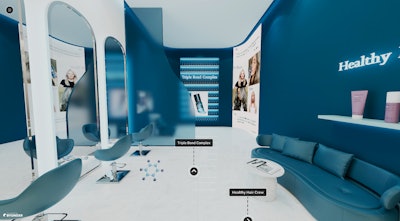 Customers can then experience an AI hair quiz to find their individualized hair routine, get an inside look at Living Proof's salon in their Boston HQ, learn how to properly recycle beauty products with Terracycle, and directly purchase their favorite hair care products directly from the virtual store.
ByondXR has virtual shopping abilities and offers an interactive, educational game within the platform. The gamified elements encourage users to continue navigating the space, incentivizing with free samples rewarded to users who find a 3D Fortifying Tech Easter egg hidden within the space.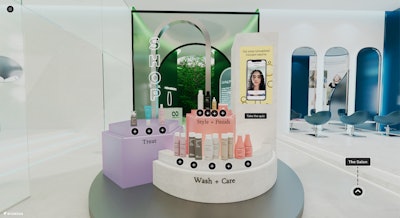 Noam Levavi, co-founder and CEO of ByondXR, said, "At ByondXR, we are honored to power Living Proof's immersive shopping experience, featuring a wide range of engaging experiences, from mini-games to insights into the science behind their products. We are proud to partner with a brand that values building strong relationships with consumers, and we look forward to helping Living Proof continue to innovate and lead the way in the hair care industry."
Zach Reiken, Living Proof CEO, said, "Living Proof has always used cutting edge technology to solve real world hair problems. This new digital experience is the perfect vehicle to further immerse Living Proof's community in our brand and to learn more about how our innovations are continuing to push the boundaries of hair care."