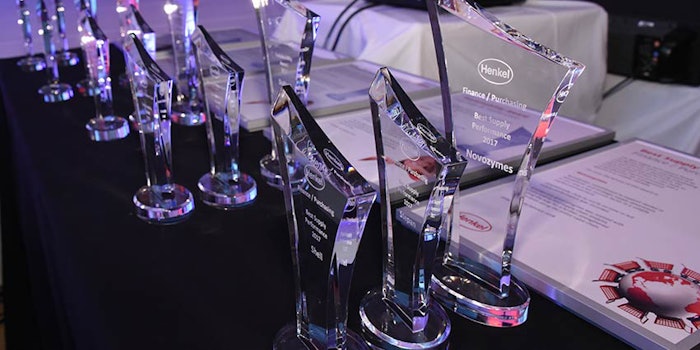 Henkel presented its 11th best-in-class awards at the 2018 American Cleaning Institute (ACI) annual meeting and industry convention.
For the first year, one winner and two second prizes were presented in each of the five categories.
Best Innovation Contributor Beauty Care: Clariant
Clariant was awarded for its Perlogen SF3000 liquid pearlizing concentrate; utilized in Henkel's shampoos to add shine to shampoos, it is 30 percent more efficient than standard pearlizers.
Second prizes went to Ashland for its cationic polymers for styling and hair care, and Symrise for its multi-component formulation solution, which combines skin protections and the benefits of day creams for high-sunlight-protection-factor creams.
Sustainability Award Beauty Care: Solvay
Solvay was honored for its guar initiative. "Guar is a source of natural polymers used in home and personal care products," said Thomas Förster, Henkel's corporate vice president of R&D, beauty care. "We apply this sustainable ingredient in the Fiber Therapy technology of our Gliss Kur Hair Repair range."
Second prizes were awarded Agrana for residue-free, tailor made starches which reduce the usage of hot water in the production of dry shampoos, and UPM Reflact's RafCycle, a label liner recycling process that has allowed Henkel's plants to recycle 500 tons of liner waste per year) the process converts liner waste into pulp and paper). 
Best Innovation Contributor Laundry & Home Care: IFF
"To our new Suprême range of fabric finishers with fine fragrance perfume oils, IFF made a major contribution with the combination of multi-phase capsule technology with substantive aroma-chemicals for a superior long-lasting scent experience," said Henkel's corporate director, research laundry & home care Michael Dreja.
Best Supply Performance: Novozymes
"Novozymes pioneered in a joint transformation road map toward an interconnected supply chain," said corporate vice president for global purchasing, raw materials Thomas Holenia of the category's overall winner. The category evaluated exceptional operational performance and service combined with progress in "risk management and supplier managed inventory." Shell, recognized for "excellent support during tight market situations and supply bottlenecks" and Stepan, for securing a supply of high volume, complex portfolios, were awarded second prizes.