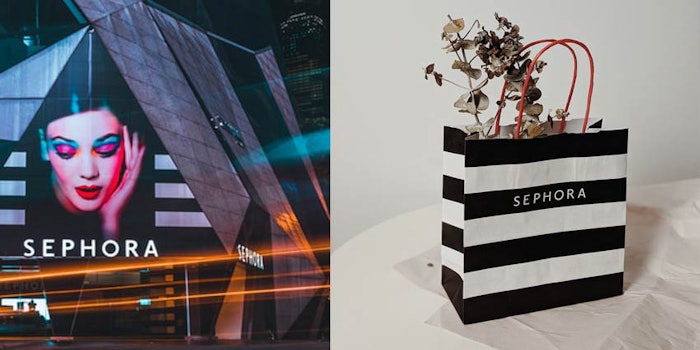 Three years after launching Clean at Sephora, the retailer has expanded its ethical credentialing with Clean + Planet Positive, featuring "clean brands focusing on climate commitments, sustainable sourcing, responsible packaging, and environmental giving," per the company. The news comes as outlets like Allure scrutinize clean and sustainable beauty claims with increasing skepticism.
Brands that meet these standards include alpyn beauty, Athr Beauty, Biossance, Briogeo, Caudalie, Ellis Brooklyn, Farmacy, First Aid Beauty, Herbivore, Maison Louis Marie, Prima, Ren Clean Skincare, Saie, Selfless by Hyram, Sephora Collection, Susteau, Tata Harper, The 7 Virtues and Youth To The People.
The standards include timelines for meeting certain requirements, as detailed below.
1. Clean ingredients (full list here)
2. Climate commitments
Brands must meet one or more of the following:
Carbon-neutral operations
Greenhouse gas emissions reduction targets and action plan to meet them
Corporate office and owned or leased operations powered by 100% renewable energy
3. Sustainable sourcing
Cruelty-free (by 2022, suppliers must verify that all products are cruelty-free)
Only sustainability harvested palm/palm kernel oil (RSPO mass balance segregated; oil, 100%; derivatives, 75%) and mica (avoiding child and forced labor, leveraging fully vetted suppliers only, joining or continuing membership in the Responsible MICA Initiative)
No microplastics (

b

y 2022, microplastics such as microbeads less than or equal to 5 mm in diameter will be prohibited)
For CBD brands: meet Sephora's CBD standards
4. Responsible packaging
No single-use items or "unnecessary" materials, including minimized secondary packaging, elimination of single-use formats in salable products, marketing and PR product outreach (per Sephora: "e.g., single use masks, wipes and any materials that cannot be recycled, composted or re-used"), and elimination of tertiary packaging such as double-walled supports, stickers, wafer seals, cap seals or box seals
Designing with recyclability in mind, with a goal of 90% of packaging (by weight)  comprising only primary and secondary packaging made from uncoated fiber-based paperboard, plastic made from PET, PP, LDPE or HDPE, easily separatable materials/no mixed materials, glass, and aluminum, etc.; current assortments must have clear recycling instructions and a long-term plan for improving recyclability of all packaging
Innovating with refillable components, post-consumer recycled content (PCR), biomaterials, plant-based ink, etc.

New launches, beginning in

2021, must meet at least three of the following (percentages are by weight): 30% or more

PCR

or

upcycled

materials, incorporation of

biomaterials

(biodegradable, bio-based or

compostable

), foregoing forest-based

paperboard, offering

primary packaging made from at least 75% materials that can be "infinitely" recycled (aluminum, glass, etc.), foregoing materials that cannot be recycled or have no end market (e.g., colored or black plastic, small components under 2 inches, magnets, pumps, doe foots, brow/mascara wands, or other items with mixed materials; excluding caps and pipettes), incorporation of refillable components (whereby refill pods in reusable

componentry

or in-store refill systems), use of 100% FSC-certified paperboard or third-party-verified

sustainably

managed forests or other

sustainably

sourced

biomaterial, use of

only vegetable-, water- or UV-based (non-petroleum derived and no

VOCs

), and foregoing secondary packaging
Products launched before 2021 must "[c]reate internal reduction targets and preferably publicly report on them for primary and secondary product packaging," per Sephora.
Products launched in and after 2021 (excluding sampling) "[m]ust reduce and eliminate all unnecessary material," including "no secondary packaging whenever possible, optimize weight and shape of product and packaging" for lighter weights and design for maximizing shipping efficiency.
5. Environmental giving
Meet one or more of the following criteria:
Donate at least 1% of profit to a high-impact, long-term giving program that is multiyear and ongoing ($100k per year minimum)
Be a certified B-corporation, or mid-certification to become one