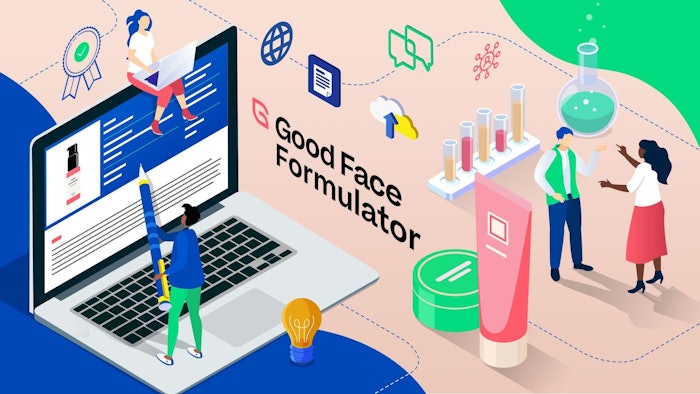 The Good Face Project has raised $5.65 million in a seed investment round led by VMG Catalyst to scale the chemistry informatics company's AI-powered, science-backed technology.
In addition to VMG Catalyst, other investors include Spark Growth Ventures, REDO Ventures, Capsum and EvoNexus.
Industry executives John Heffner, CEO of Summer Fridays and former CEO of the Drybar, and Romain Gaillard, founder and CEO of The Detox Market, also jumped on board as investors.
The Good Face Project will use the investment to enhance the Good Face Formulator, a data-driven index of real-time ingredient and regulatory intelligence designed to help beauty brands formulate clean products that are efficacious and comply with regulatory requirements.
The company will use the new funding to improve the user experience, accelerate customer adoption and hire new team members.
The Good Face Formulator is designed to shorten the product-development cycle. The platform draws on an AI-powered and science-backed INCI-level ontology that consists of more than 150,000 ingredients and 200,000 in-market formulations, as well as more than 40 dimensions of ingredient safety, sustainability and efficacy.
It enables chemists to develop formulas from scratch with up-to-date ingredient information and real-time regulatory feedback, from formula cost and trade name to ingredient list conversion.
The Good Face Formulator also leverages economies of scale across formulas by supporting validation studies and the manufacturing process in a single space that is easy to navigate, according to the company.
In addition, the platform immediately adjusts any time regulatory, scientific or consumer sentiment changes take place, giving users greater control over the formula design or procurement process.
According to The Good Face Project, hundreds of beauty and personal care brands, manufacturers and retailers are using the Good Face Formulator, including Hero Cosmetics, Vegamour and Solawave.
"We think of our platform as an R&D lab in the cloud," said Iva Teixeira, co-founder and CEO of The Good Face Project. "The Good Face Project is transforming the way brands, manufacturers and ingredient suppliers approach research and development, and giving them confidence that their new formulas will include thoughtfully sourced ingredients and meet regulatory requirements, while also satisfying consumer demand for transparency, safety and sustainability. We're excited and grateful for this new financing, which we will put to use in empowering best-in-class beauty innovation and formulation."
"The Good Face Project is playing a critical role in helping brands and manufacturers drive efficiencies in their innovation and product development process," said Brooke Kiley, partner at VMG Catalyst. "We were immediately impressed by Iva Teixeira and [founder and chief technology officer] Lena Skilarova-Mordvinova and the technology they've built. We're excited to see the positive impact that The Good Face Project will have by bringing transparency and sustainability to the beauty industry."