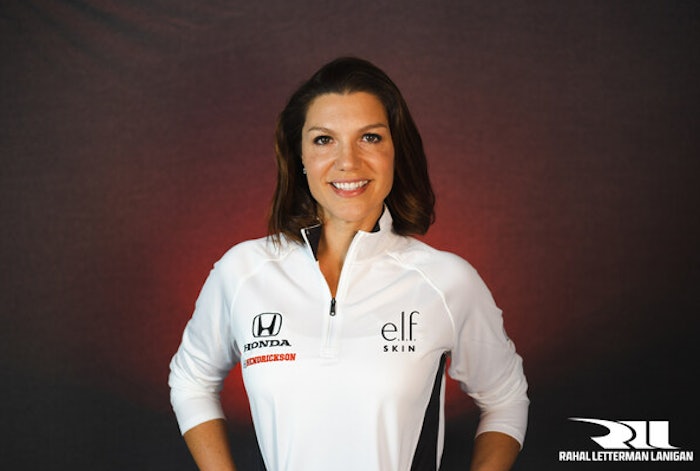 e.l.f./RLL
e.l.f. Beauty is partnering with Katherine Legge, the only woman competing in this year's Indianapolis 500 this Memorial Day weekend. Per the agreement, the driver, who races for Rahal Letterman Lanigan Racing, will represent e.l.f. Skin on and off the racetrack.
The brand has previously tapped unique sectors for its marketing campaigns, including gamers.
Legge is a vegan who, like all drivers, endures hot, sweaty conditions in her line of work. As part of the brand partnership, the driver has created a vegan and cruelty-free routine with e.l.f. Skin products, including:
Holy Hydration! Makeup Melting Cleansing Balm
Pure Skin Moisturizer
e.l.f. Blemish Breakthrough Acne Fighting Spot Gel
Suntouchable! Whoa Glow SPF 30
"At e.l.f., we strive to break boundaries, create inclusion and empower individuals to be their authentic self," said Patrick O'Keefe, vice president of integrated marketing communications, e.l.f. Beauty. "From our first conversation with Katherine, we quickly realized our shared commitment to supporting women in male dominated-fields. Katherine is the only female driver at this year's largest single-day sporting event in the world—the Indy 500—and we're ecstatic to be along for the ride, helping her with every eye, lip, face and skin concern."
"I've always said I've just wanted to be a racecar driver—and that the car doesn't know the difference," said Legge, who will drive the No. 44 Honda-powered Hendrickson entry. "However, I also understand that motorsports is possibly the only professional sport where men and women can compete on an even playing field, and it's important that I do my part to help create equality and inclusion. Representation matters, which is why I'm thrilled to align with e.l.f. Skin, a brand that champions these same values."