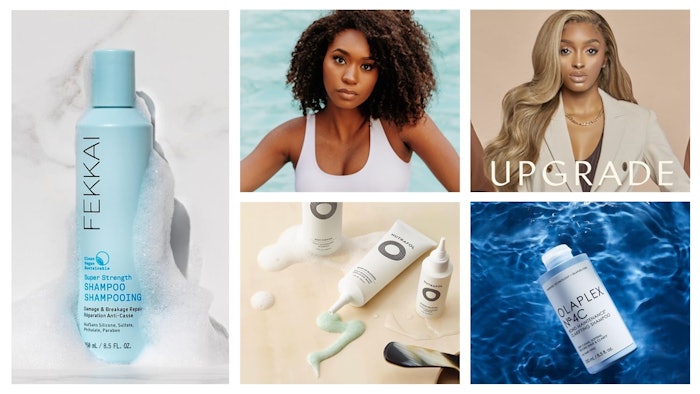 Hair care is booming. U.S. prestige hair care sales totaled $781 million in Q2 2022, representing a growth rate of 24%, the largest percentage gain in the prestige beauty space tracked by NPD. This growth rate came on top of a 32% gain posted in Q1. Winners in the sector included hair care, styling and color, with "clean" hair brands comprising nearly 25% of sales. That's a five-point gain versus 2021, per NPD.
Given the dynamic growth of the hair care category and the increasing focus on clean and wellness-focused brands, Beauty Accelerate 2022 NYC (September 28-29) will present a range of the sector's leading voices, including Olaplex, Nutrafol, Upgrade and Fekkai.
>>>Registration is now open; sign up now for best rates.<<<
The growth of the category has benefited in part by the extension of hair wellness to scalp care and hair loss prevention, which meet at the intersection of a new phenomenon: the skinification of hair care. This refers to translating technologies for skin, e.g., anti-aging actives, repair agents, microbiome balancing, etc., to hair.
During Beauty Accelerate, Lavinia Popescu, Ph.D., chief scientist of R&D for Olaplex, will explore this concept, explaining how hair can benefit from skin-centric approaches and ingredients, and providing examples of incorporating collagen, hyaluronic acid, etc., into hair care.
Popescu is director of R&D for Olaplex, having previously served as VP of R&D for the company. Her expertise ranges from skin and hair care, to raw materials, actives and biotech applications.
Prior to Olaplex, she held executive roles at companies including Elizabeth Arden, Moroccan Oil and Westman Atelier. She earned a master's degree in chemistry from the University of Bucharest.
For a market-focused perspective, Olaplex's CMO, Charlotte Watson, will speak in a separate session. 
Both experts hail from a brand that continues to post significant growth, following an IPO.
Olaplex went public in September 2021, marking a major growth trajectory for the brand and its unique ingredient technologies.
Since that time, the brand has launched a buzzy hair clarifying product, highlighted by Today and many other outlets, and garnered shout outs by Billy Eilish and Kim Kardashian.
>>>Registration is now open; sign up now for best rates.<<<
Also joining Beauty Accelerate 2022 are Frédéric Fekkai, founder of the eponymous hair care brand, and Upgrade founder Britney Winters.
The entrepreneurs will discuss beauty business growth and excellence, spanning several decades of experience.
Four years ago Fekkai reacquired his namesake brand and remade it for an era that values clean, sustainable brands.
Since that time, the brand has launched a buzzy Apple Cider Vinegar collection, which features a three-step regimen said to harness the benefits of apple cider vinegar to detoxify, stimulate and regulate for a healthier, more balanced scalp.
PopSugar praised: "The Fekkai Apple Cider Detox Scrub ($30) definitely worked its magic in removing excess oil, flakes, and product build-up without stripping the scalp or over-drying my roots."
Fekkai also launched the throwback Shea Butter Collection, a hair care line from the 1990s, at Ulta and Fekkai.com, and entered travel retail with DFS Group.
Meanwhile, Fast Company has said that "Britney Winters is democratizing the wig industry with Upgrade," an ecommerce platform for custom wigs and raw human hair extensions.
She also happens to be the entrepreneur behind Mary J. Blige's golden Super Bowl locks.
It's no surprise, then, that in May of 2022, Upgrade announced a $1 million seed extension led by The Artemis Fund and Mercury Fund, the notable, Bracken P. Darrell and ANIM.
Upgrade claims to be the only ecommerce platform to offer business and FinTech capabilities within its wig and hair marketplace.
The new funding came as Upgrade is debuted a monthly subscription service for stylists to manage orders and communicate with consumers. Upgrade is also offering micro-loans to its subscribers to provide capital for stylists to invest in inventory and expansion opportunities. 
>>>Registration is now open; sign up now for best rates.<<<
Sam Archer, Nutrafol's VP of product marketing and innovation, will also be joining Beauty Accelerate 2022 in NYC. Nutrafol has been a fast-growing hair care brand, initially with supplements and later with topical products. In May 2022, this growth caught the eye of Unilever, which acquired the brand.
Since its founding, Nutrafol has launched disruptive products such as postpartum hair care supplements, a hair growth activator and a scalp microbiome range.
The company has also pursued hair growth data across ethnicities to ensure inclusive solutions.
InStyle recently highlighted experts' praise of the brand, while Kristen Nichols at Who What Wear declared: "After seeing such incredible results, I can see why the supplements earned Allure's Best of Beauty Breakthrough Award."
>>>Registration is now open; sign up now for best rates.<<<